Megaways slots
Megaways slots are very popular among many experienced casino-goers as they provide a lot of variety. However, it is precisely this variety that can make the games seem rather chaotic at first glance, and this often overwhelms Megaways newcomers. In order to provide all players with a good overview of Megaways slots, we have summarized the most important facts about the popular casino slots in this text.
Megaways Slots
NFT MegaWays
Min:

0.10 CHF
|
Max:

100.00 CHF
Pirates Plenty MegaWays
Min:

0.10 CHF
|
Max:

100.00 CHF
Tyrant King Megaways
Min:

0.20 CHF
|
Max:

10.00 CHF
Dazzle Me Megaways
Min:

0.10 CHF
|
Max:

50.00 CHF
Western Gold Megaways
Min:

0.20 CHF
|
Max:

40.00 CHF
What are Megaways games?
The first slots to appear were three-reel slots, such as Super Cherry. Today, the market is dominated by slots with five reels, each of which features three to five symbols. The number of paylines (i.e. lines of symbols through which a win can be achieved) varies greatly from slot to slot. However, within a slot game, the number of paylines always remains the same.
The popular Megaways slots (e.g. Aztec Gold Megaways or Piggy Riches Megaways) are different to these «normal» slots. These games also have a structure of reels and symbols and a possible win also accrues on the paylines. However, unlike the classic slots, only the number of reels is defined; the paylines and symbols are variable. Megaways slots therefore do not have a predefined fixed structure. Usually, they have six reels, on which between two and seven symbols can appear on each spin. The variable number of symbols automatically results in different numbers of paylines, because the more symbols there are on each reel, the more paylines there will be. A Megaways slot with six reels and up to seven symbols per reel, for example, has a maximum of 117,649 possible paylines.
Since Megaways slots do not have a defined structure, the paylines cannot be defined in advance in the same way as they are in classic slots. This means that, in slot machines with the Megaways feature, everything usually counts as a payline as long as the same symbol appears from left to right on each reel. The payline goes along to the right until the symbol is no longer present on a reel. However, the position or size of the symbol is irrelevant. 
Even though Megaways games often have many more paylines than traditional slots, they do not have a better or worse payout ratio per se than normal slot machines. Also, the volatility is not dependent on the Megaways feature, but differs depending on the game.
How do Megaways slots work?
For you as a player, the Megaways feature does not change much in the operation of the slots. However, it is important that you always place a total bet in these games and do not set a bet per payline, for example. This is for the simple reason that the number of paylines has not yet been determined at the time of the spin.
The built-in random number generator only decides during the spin how many symbols will appear on each reel, which in turn defines the number of paylines. The more symbols you can see on each reel, the more paylines your game will have. Your chances of winning increase with each additional payline, which leads to even more excitement before each spin.
To help you keep track of the constantly changing symbols, Megaways slots will show you the number of paylines in each round. You will usually find this number at the top or bottom of each game, as shown in the picture below.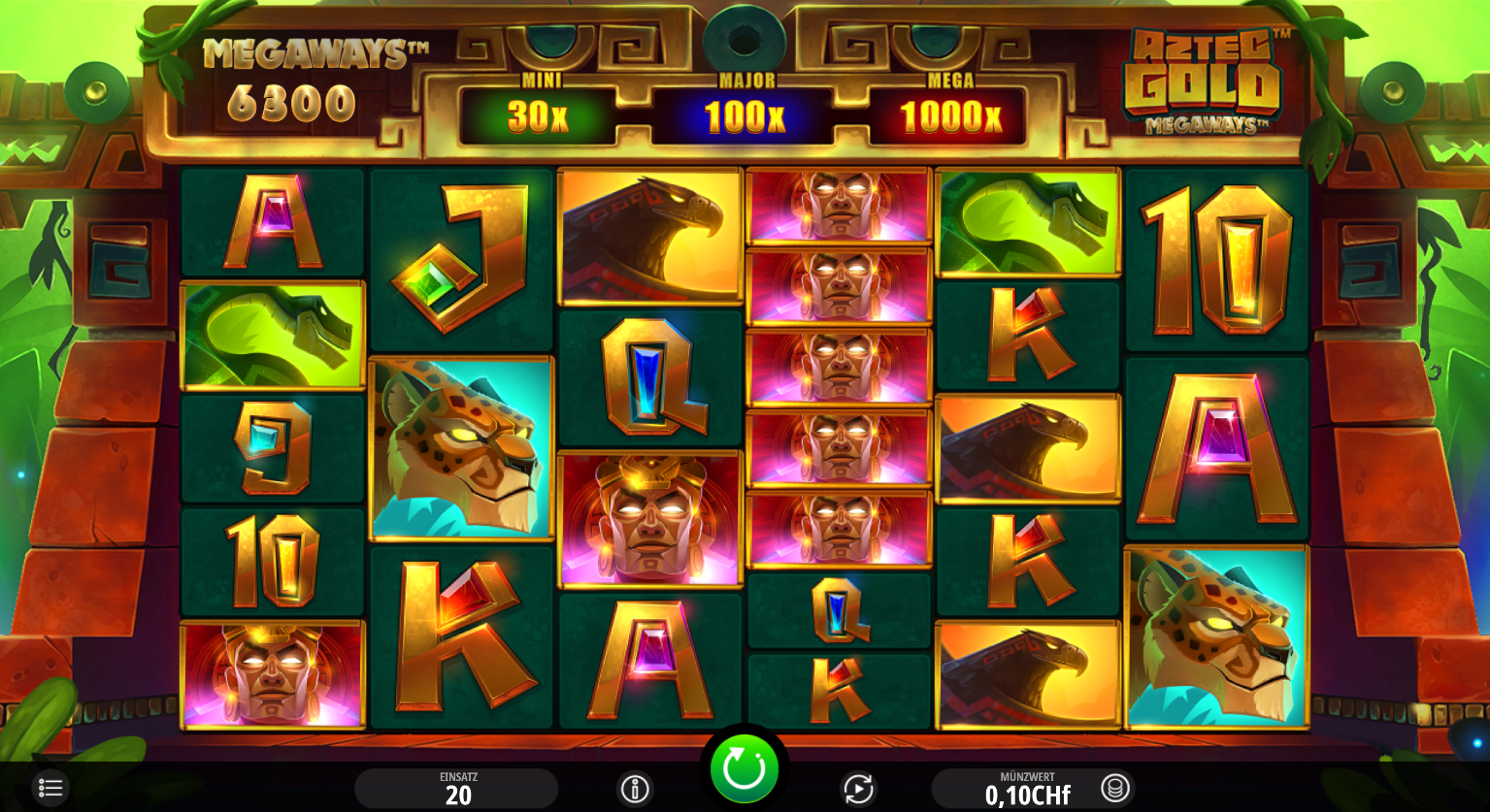 Megaways mechanism & developer
Megaways slots were developed by the Australian software company Big Time Gaming (BTG) in 2015. The slot machines include a «random reel modifier», i.e. a random generator that decides on the number of symbols per reel.
Big Time Gaming released Dragon Born in 2015 as the first slot game with the new technology. The game was revolutionary as it offered players up to 117,649 opportunities to win per spin. Despite this new feature, the game was not a big hit and it was actually the second game with the Megaways mechanism that made the breakthrough. The game Bonanza, launched by Big Time Gaming in 2016, is still known as one of the first Megaways games.
After the huge success of Bonanza, more and more slots with the new random reel modifier were added. Meanwhile, many other game companies have started using Big Time Gaming's technology to release their own slots with variable symbols. Popular games from other producers include Aztec Gold Megaways from iSoftBet or Gonzo's Quest Megaways from NetEnt.
Conclusion
Megaways slots clearly stand out from the other slot machines due to their unique random mechanism and therefore bring welcome variety to the gaming industry. The games are very popular among players due to the increased chances of winning resulting from having lots of paylines, but also because of the additional excitement factor. Each spin arouses renewed curiosity about the number of paylines, which makes the games even more varied.
For newcomers to slots, the Megaways games can seem a bit overwhelming at first, as the way they work is not obvious at first glance. However, after playing them for a short time, even beginners will recognize and love the potential of the extraordinary slots.
Every avid slot player should at least give Megaways games a chance, as they can be much more varied than traditional slots. With the added excitement factor, they'll certainly never get boring.