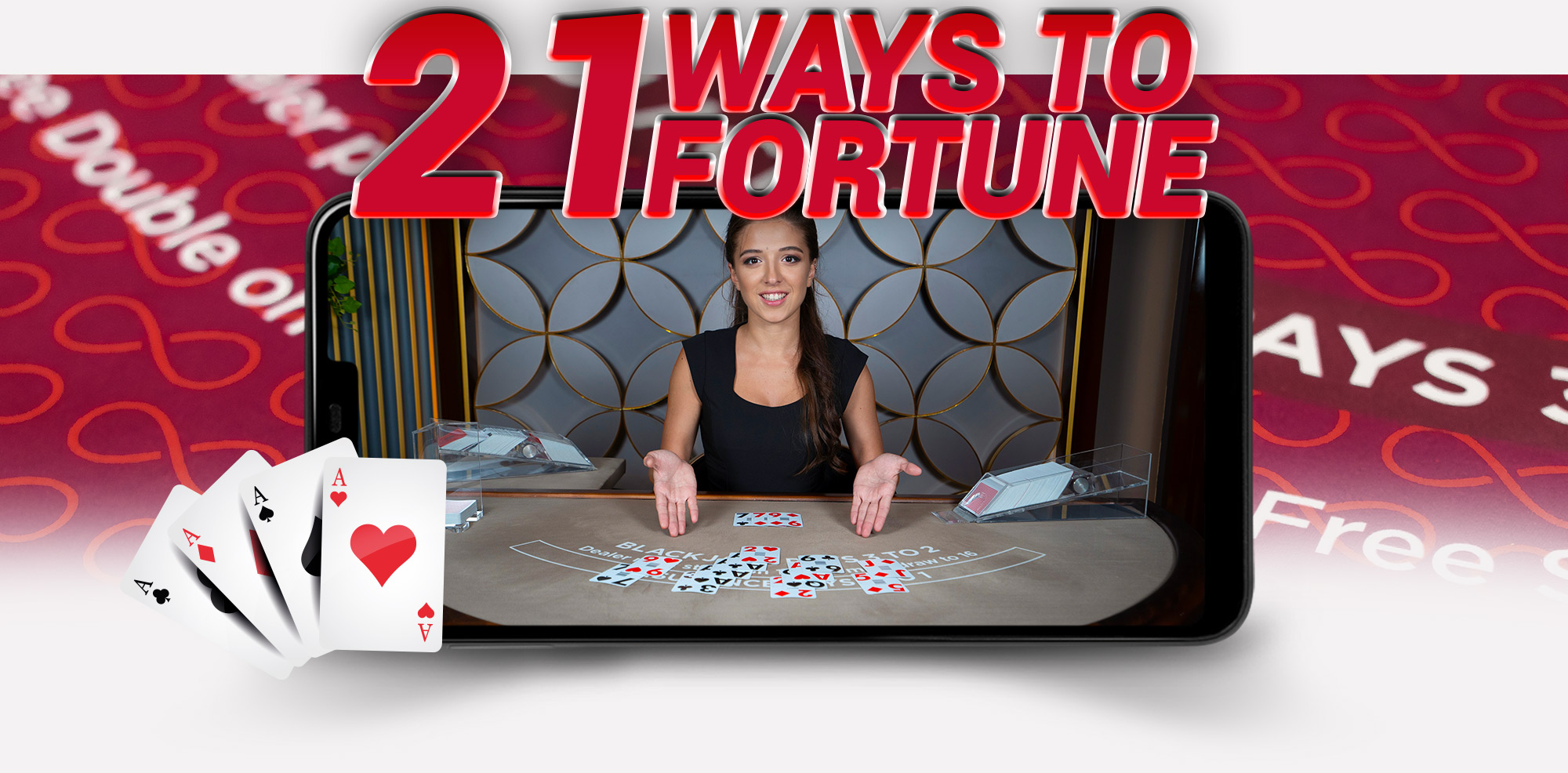 Live Blackjack at the Online-Casino
One of the most popular games in the live-casino in Switzerland is Live Blackjack. The game is so popular because, in contrast to the slots, the game can be considerably influenced by your own decision. With the perfect strategy, the house advantage of the casino can be almost eliminated. So if you're looking for an exciting game that you can influence with your actions and decisions, then Live Blackjack is definitely made for you!
Different types of live blackjack online versions
The different types of live blackjack games can differ due to different factors. For example, the game "Free Bet Blackjack" is a variant in which an infinite number of players each play the same hand against the dealer.
In other variations, such as "Blackjack (1)", each player sits at a fixed seat at the table and is dealt their individual cards. This variant is much more similar to blackjack in land-based casinos than "Free Bet Blackjack", but also has the disadvantage that only a limited number of people can sit at a table.
Live Blackjack variations can also differ simply by having different minimum and maximum bets. In this case the rules of the game would not change.
Multi-game version
A big advantage of playing blackjack online live can be the chance to play multi-game versions. The multi-game version allows you to play at up to four blackjack tables simultaneously. To use this feature, click on the "+ TABLE" button in the lower right corner of any game that offers this option. When you click on it, your screen will split and you will see all the games that you can play at the same time as your previous game.
You can also add an additional table by clicking on "LOBBY" and then on "+ TABLE". Note, however, that if you click on "LOBBY" and then click directly on the table and not on "+ TABLE", you will change tables and leave your previous table. 
If you are taking a seat at the same table where you are already playing through a different window or device, you will automatically leave the table.
Live Blackjack Rules
The rules of Live Blackjack are identical to the rules of the traditional land-based casino. There is also no difference from online Blackjack, which is played against a computer. For this reason, the Blackjack rules are not explained here.
You can read about the standard Blackjack rules on our blackjack rules page. Also, the payout odds against other blackjack games remain the same as you already know. However, if you become unsure of the rules or odds while playing, you can always review them by clicking the "?" symbol.
However, many live Blackjack games offer some special features and side bets, which we will explain here.
Bet Behind
One feature that you will search in vain in land-based casinos or in so-called RNG Blackjack, which is played online against a computer, is "Bet Behind". When playing live blackjack online in some variations you have the possibility that if the table is full and you are unable to play yourself, you can bet your bet on another player. You do this by placing your chips in the "Bet Behind" area, which is behind the normal betting area.
The Blackjack game then proceeds in exactly the same way as normal, except that you cannot make any decisions yourself. The person who sits in the seat makes all the decisions that apply to you and your bet.
You can use the Bet Behind feature whether you are seated at the table or waiting for a free seat. However, the Bet Behind feature is disabled for your own bets. If the player with whom you placed your bet does not play, you will get your full bet back immediately.
If you click on "Bet Behind" under "Settings" you can make additional settings to the feature, such as whether you want to double down if the player doubles down or call if he splits his hand.
This way of playing is not suitable for everyone, because you lose a bit of control over your own game, since you cannot influence the action in any way. However, if you know that someone has a good strategy, it can definitely be lucrative, because you can win even without having deeper knowledge about blackjack strategies.
Perfect Pairs
"Perfect Pairs" is a so-called side bet of live blackjack in the online-casino. In many versions of this popular live game, you have the option of placing another bet for an additional chance to win. In Perfect Pairs, you bet that your first two cards will form a pair. The following three different combinations count as a pair:
Perfect Pair - same suit
e.g. two kings of spades
Payout - 25:1
Colored pair - different suits of the same color
e.g. 2 of diamonds and 2 of hearts
Payout - 12:1
Mixed pair - different suits of a different color
e.g. 10 of hearts and 10 of clubs
Payout - 6:1
21+3
The side bed "21+3" is a bit more complicated than Perfect Pairs but should not be a problem either. Especially poker fans will quickly find their way around this way of playing, but even inexperienced players will quickly learn this version.
In 21+3, you bet that your first two cards and the dealer's face-up card together will result in one of the winning combinations given. The following combinations of three cards win:
Suited Trips - an identical trio
e.g. three queens of hearts
Payout - 100:1
Straight Flush - three cards in numerical sequence of the same suit
e.g. 10, jack, queen of spades
Payout - 40:1
Three of a kind - three cards of the same value but of different suit
e.g. three non-matching aces
Payout - 30:1
Straight - three in numerical sequence but different suit
e.g. 2 of spades, 3 of clubs, 4 of hearts
Payout - 10:1
Flush - three non-sequential cards in the same suit
e.g. 2, 6, 10 of clubs
Payout - 5:1